Customer service is the new playing field for lenders.
With an industry-wide decline in brand loyalty, your established reputation is no longer a guarantee of success. There are plenty of new players, from neobanks to digital ADIs, poised to take your market share.
So how can you stay relevant as a lender, and position yourself for growth? The answer is simple: give customers a simple and fast loan application experience.
Is your loan application experience fit for the future?
For lenders, the most obvious way to respond to customers' needs is to offer a fast, intuitive, hassle-free loan application experience.
To a prospective borrower, your loan application process is indicative of the level of service they can expect from you, across the board. So, it needs to prioritise the following:
Simplicity and functionality
A process that allows applicants to move between sales channels and devices
Regular loan status updates
A quick knockout process to eliminate unfeasible applicants early
Automatic gathering and verification of data
Ability to complete the whole application process online, including uploading and signing of documents
Processing time in hours rather than days
Optional human interaction if needed
Gamification of the application process
But it's not all about the user experience. In today's increasingly stringent regulatory environment, your loan application experience also needs to tick a lot of compliance boxes.
Survival – and compliance – hinge on the use of data aggregation
In line with regulatory changes, lenders are now required to show they've taken 'reasonable steps' to inquire about and verify an applicant's expenses.
And obviously, it's much more labour intensive to manually collect individual data on expenses than it is to rely on the Household Expenditure Measure (HEM).
So you have two options: increase your headcount, or utilise data aggregators to retrieve borrowers' financial data and verify both income and expenditure.
Fortunately that data is already being collected by companies such as Proviso, Yodlee and MogoPLUS, so data aggregation is the obvious choice. Why reinvent the wheel?
However, ASIC expects lenders – if not immediately, then in the near future – to avail themselves of the data that technology is now giving easy access to, in order to fulfil their regulatory obligations.
So, all things told, rather than view data utilisation as an imposition, it's better to see it as an opportunity to offer a superior loan application experience as well as to deliver on both customer and regulator expectations.
How to win on the new playing field… without increasing your cost to serve
Question: How can you as a lender dramatically reduce loan application response times without increasing your cost to serve?
Answer: By automating your credit decisioning process.
To do this, you need a decision engine.
The result? A faster, tighter application process, which requires far less human intervention – exactly what your customers have been asking for all along.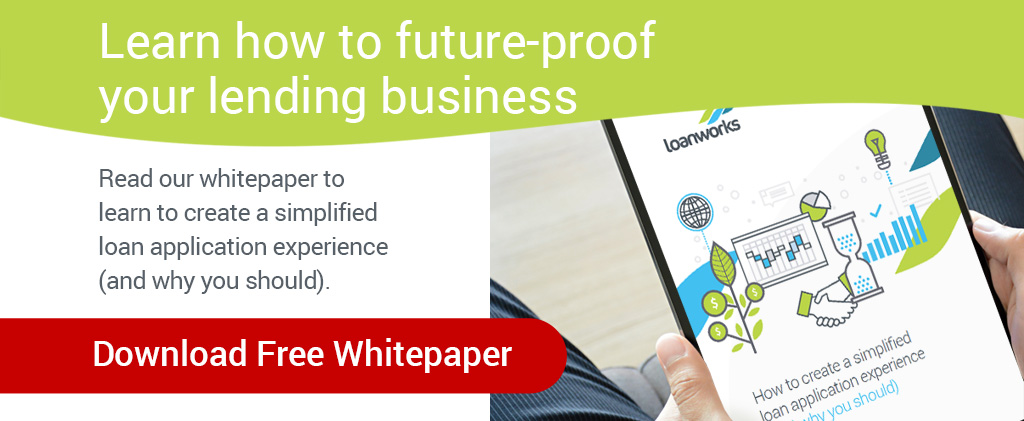 Simplify your loan application experience with Loanworks Origination
Clearly this sort of solution requires smart collaboration with an experienced technology partner. This makes Loanworks the obvious choice. We've developed the technology to give borrowers exactly what they want.
Loanworks Origination is a scalable, tailor-made home loan origination platform. It streamlines the entire origination process, from start to finish, using data aggregation, automated credit decisioning, and our ground-breaking online application platform Loanworks Now that allows customers to apply for a loan on their desktop, mobile or tablet in under 20 minutes.
By cutting headcount costs and error rates, it will drastically reduce your cost to serve, while also significantly boosting productivity and increasing your capacity to meet regulatory obligations.
Perhaps most importantly, it will keep you relevant by giving your customers what they actually want: a simplified, easy and fast online loan application experience.
Learn more about Loanworks Origination
Download your copy of our whitepaper: How to create a simplified loan application experience.
Or call Urvesh Vibhakar, our Solutions Delivery Manager, on +61 433 186 482 (or email u.vibhakar@loanworks.com.au) to discuss a tailored solution that will dramatically improve your customer experience.